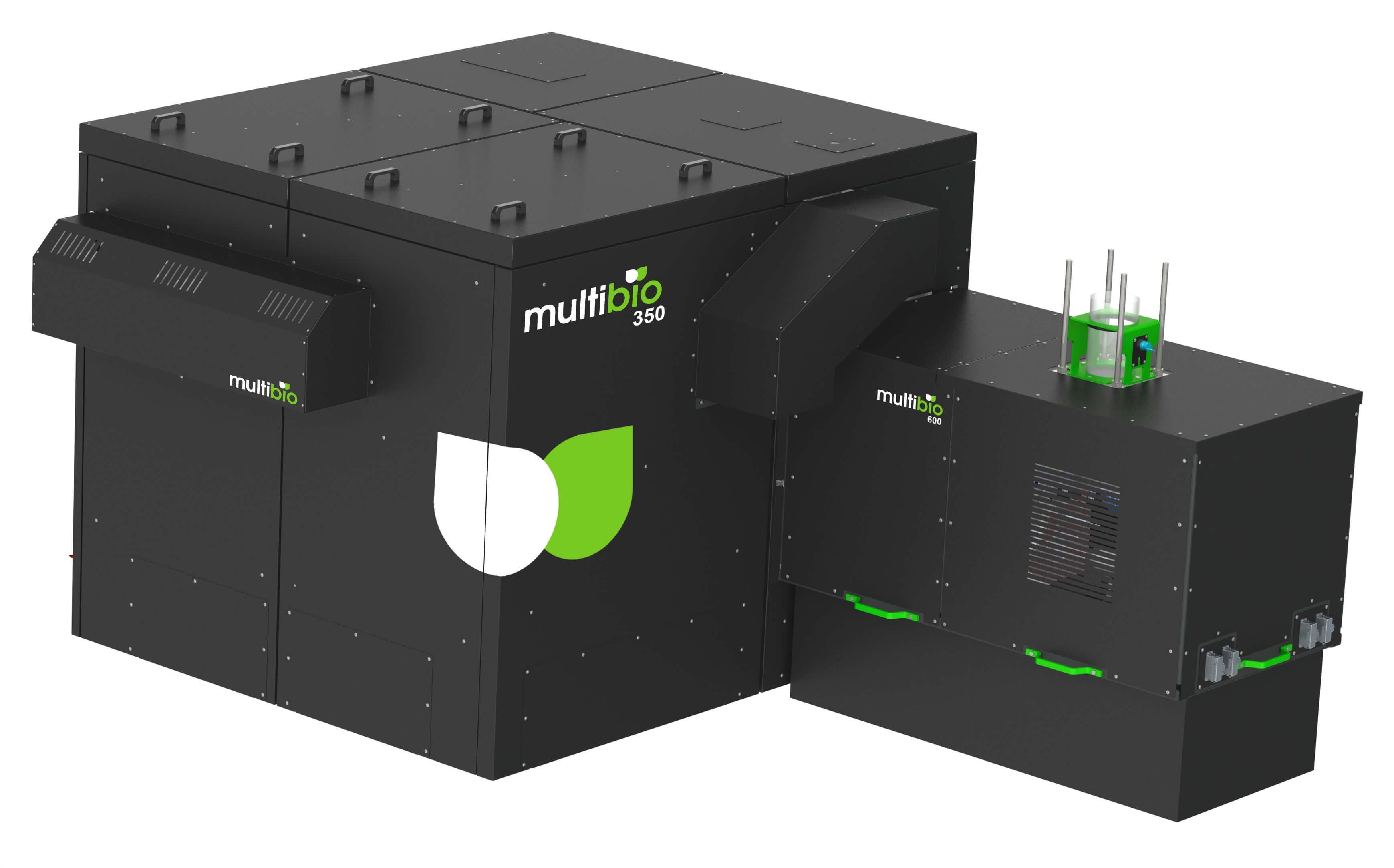 Low heating costs - you do not need to buy fuel but use your own crushed wood.
Since January 2018, we have been working intensively on the development and production of a 300 kW boiler for the legal combustion of particleboard and carpentry residues and remnants from furniture production.
The boiler will be certified in emission class 5 for wood pellets and meet EcoDesign requirements.
Further certification will be a mixture of wood pellets and non-wood biomass in class 4 (plant pellets, agro-pellets, grains, rape residues, mustard and other similar materials). When using flue gas filters, the boiler will meet the requirements of emission class 5.
Auto ignition of fuel
Automatic heating, ecological operation
Automatic ash removal system (optional)
Automatic cleaning of the boiler exchanger (optional)
Combustion controlled by lambdasond
Remote access over the Internet
Boiler Description

Boiler for firing chipboard and carpentry waste MultiBio 350

The MultiBio 300 is an automatic hot water boiler for combustion of chipboard fibreboard and carpentry shreded waste if it is operated at the place where this fuel is produced. The boiler is a Czech product suitable for comfortable automated, environmental and production halls of 90 to 350 kW joinery. The boiler can be operated both with and without a storage tank due to power modulation. The boiler can also be used to produce hot water up to 100° C.

Using fuel with high ash rate is comfortable in MultiBio

The MultiBio burner is a product with a unique combustion system that consists of a pressurized air chamber, a rotary grate with a special drilling, a precision fuel and turnstile thrust auger that completely prevents the fuel from burning back into the hopper even without using a water canister.

MultiBio is an industrially protected product with a rotating combustion chamber that allows burning both high quality wood pellets and lower quality wood pellets with high ash content or crushed chipboard, plywood, fiberboard and other glued wood. The combustion chamber of any grease and a large amount of ash rains into the ash chamber during burning and does not bother operating the boiler.

The lowest quality wood pellets and especially the bark pellets hence the high percentage of sintered ash can not be reliably burned in the burners of simple bowl or retort structures.

Fuel for MultiBio 350 pellet boiler

Fuel for MultiBio 350 pellet boiler

Certified fuel 1: Wood pellets (C1) - Emission class of boiler 5, Ecodesign.
Certified fuel 2: Emission class 4 for a mixture of wood pellets and non-wood biomass. Using the particles filter, emission class meets class 5.
Certified fuel 3: Particleboard, plywood, fibreboards and other glued wood. (Without particles filter)
Certified fuel 4: Coal
Thanks to the MultiBio rotary burner, the boiler burns chipboard, plywood, fibreboards and other glued wood without any problems. However, with the MultiBio boiler you are not only dependent on this fuel, but just like our other boilers can burn low quality wood pellets, plant pellets and other materials.
Come to try your fuel or send us his sample!

Construction of the MultiBio 350 pellet boiler

Construction of the MultiBio 350 pellet boiler

MultiBio differs fundamentally from its unique design from other products on the market. The MultiBio boiler body is three-stroke. In small dimensions, it has a high efficiency and a low exhaust temperature, which it maintains even if the boiler operator is cleaning the heat exchanger once only during the heating season. Unlike single stroke boilers, there is a significantly better heat exchange between the fire and the heated water in the MultiBio boiler.

The MultiBio hot water boiler has precisely controlled air and fuel metering for the full range of its power with a working temperature within the burner up to 1200 ° C. The high combustion temperature ensures low emissions without odor and aggressive compounds. MultiBio does not use a damping mode in which fuel is still smolder. Thanks to this combustion the boiler does not suffer from self-destruction and does not bother the surroundings by smell from the chimney. The MultiBio boiler has negligible emissions of carbon monoxide and is environmentally friendly. With the MultiBio boiler, you can actually melt for free if you have your own chipboard.

Advantages of the MultiBio boiler electronics

Advantages of the MultiBio boiler electronics

MultiBio pellet boiler control is intuitive and easy. Complete electronics and software is an original Czech product developed only for MultBio boilers.

5.7-inch color display
Combustion controlled by lambda probe
Precise boiler power output control as required by the heating system with a tolerance of less than 2 degrees on the outlet water
Full user access to the boiler over the Internet
Control of charging the storage tank
Control of the short loop pump
Controlling ashremoval system
Automatic cleaning of the boiler heat exchanger
Preset values of combustion (presets) for different outputs and different fuels
The ability to create custom user presets based on fuel quality and performance

Technical data

| | |
| --- | --- |
| Working power output | from 90 to 270 or 300 or 350 kW |
| Eficiency | 92 % |
| Boiler class ČSN EN 303-5:2012 wood pellets | 5 |
| Boiler class ČSN EN 303-5:2012 for mixture of wood and non-wood biomass | 4 or 5 |
| Chimney diameter | 250 mm |
| Boiler weight | 2500 kg |
| Burner Weight | 650 kg |
| Total weight | 3150 kg |
| Water volume | 2000 dm3 |
| Working pressure | 2,0 bar |
| Testing pressure | 4,0 bar |
| Recommended temperature of return water | 65 - 90 °C |
| Minimum return water temperature | 55 °C |
| Noise level | 49,2 +,- 3,2 dB |
| Requested chymnei draught | 15-150 mbar |
| Water connection | DIN 100 |
| Power supply | 1 PEN ~ 50 Hz, 230 V |
| Power consumption in start phase | 2500 W |
| Power consumption during operation | 450 W |
| Electrical protection | IP 20 |

Advantages of MultiBio Rotary Burner

Comparison of MultiBio boilers and burners with other burners

MultiBio Burners are able to burn fuel with difficulty combustible due to their construction, such as plant pellets.

MultiBio boilers are multi-fuel. These boilers excel in burning a wide variety of pellets, both wood and plant and their mixtures.

The advantage of combustion of plant pellets lies above all in their price. The price of vegetable pellets is up to half the price of wood pellets. MultiBio pellet boilers can also cope with the combustion of plant pellets made from highly sintered materials such as grain straw or hay thanks to MultiBio unique internal design.

MultiBio burners also have a great advantage in burning wood pellets.


Our customers often ask what are the advantages of a MultiBio rotary burner against bowl burners or square universal burners in connection with the burning of wood pellets. At first glance, it would seem that wood pellets can burn all types of burners on the market. MultiBio burners can also burn pellets whose quality does not match the certificate issued by the dealer to pellets. This is often the case and the pellet dealer can hardly prevent or influence it.

The primary advantage of the burner is that it is not susceptible to the quality of wood pellets and can burn even the lowest grade pellets that burn ash ash or even pellets that may contain more minerals and a significant amount of ash or admixtures that can make pellets easier for their producers production.

From experience, we know that even if you bought high quality pellets with a certificate, you may find that you have a batch that did not "do". Then there is a situation that you have, for example, 5 tons of pellets in the basement, which the "normal" burner can not burn. Even if the dealer of the poor pellet willingly exchanges, it is necessary to move them out of the cellar or suffer removing excessive ash, or clinkers from the burner and re-burn the burner. The MultiBio boiler does not do this. It can reliably burn pellets with which the normal burners or torch burners can not burn.